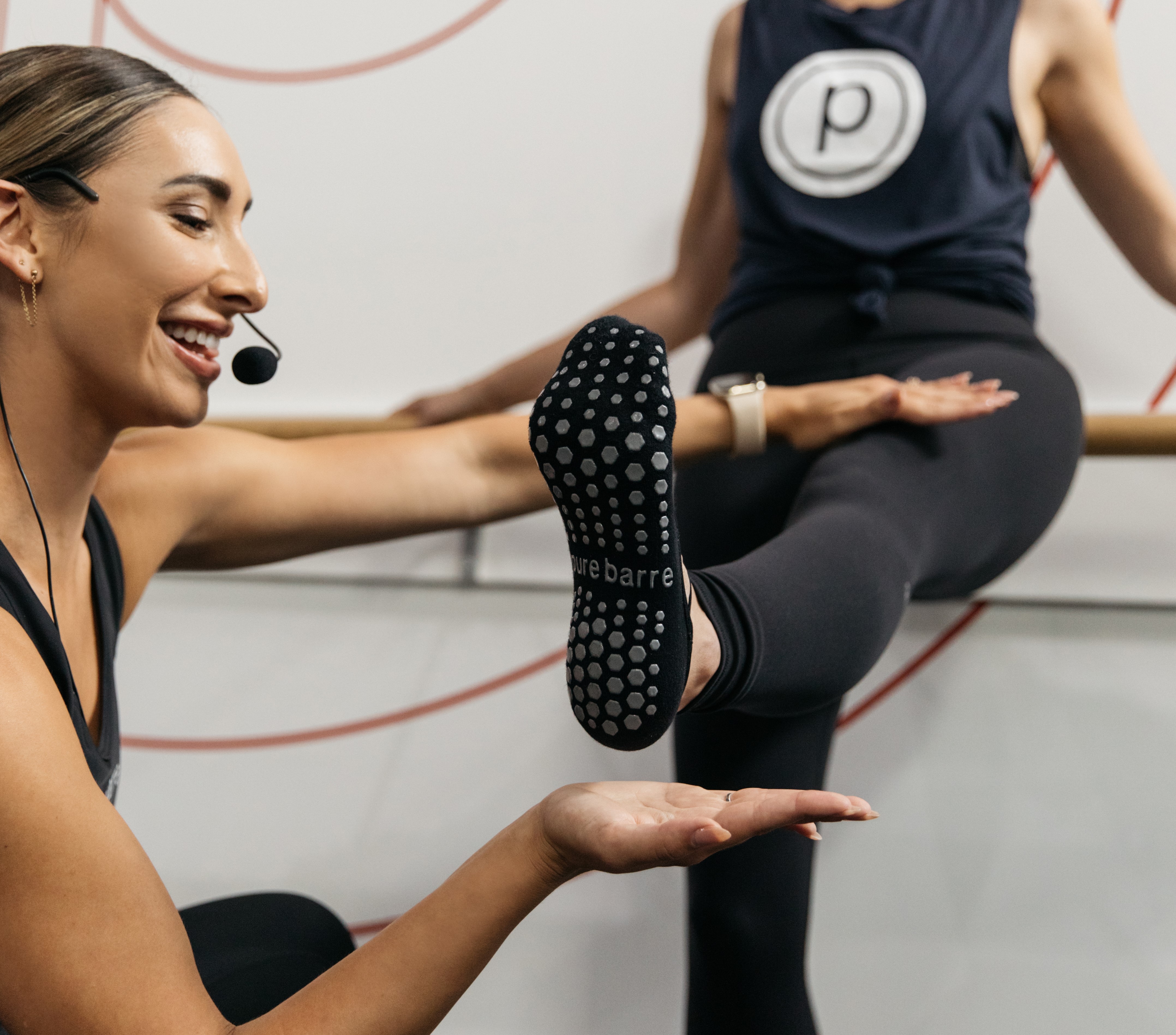 ---
If it's your first time taking a barre class, you may be surprised to learn that Pure Barre classes require sticky socks in-studio. For health & safety reasons, Pure Barre's bodyweight full-body workout is performed without shoes. Instead, all Pure Barre classes require everyone to wear sticky socks.
What are sticky socks?
Sticky socks, sometimes called grip socks, are socks with tread on the bottom to avoid slips & falls. Similar to how soccer players need shin guards or ballerinas need ballet shoes, sticky socks are a required uniform for the barre! They provide stability, control and protection during your workout.
Why Do I Need Sticky Socks at Pure Barre?
Sticky socks serve several purposes in the studio. Most importantly, they help you safely perform the workout. Even though Pure Barre is a low-impact workout, meaning at least one foot is always on the floor, wearing socks with tread helps prevent injury. Many moves used during class involve sliding and balancing. Wearing grip socks helps your feet stay where they are supposed to. To complement this, Pure Barre studios have specialized flooring that provide considerably more traction than studios with wooden floors.
Sticky socks also help ensure you are getting the most out of your workout. The sticky rubber grips on the bottom of the sock allow you to activate the right muscles while performing each move. There are over 100 muscles, tendons and ligaments in each of your feet! The tread allows all those muscles to "grip" the floor and stabilize your body while performing balancing movements.
Where do I buy sticky socks?
You can buy sticky socks before or after your Pure Barre class! Shop our retail boutique for the latest styles and holiday-themed pairs. Although you can buy sticky socks in other places, the socks stocked in-studio are specifically designed for the Pure Barre workout. If you're new to Pure Barre, we recommend starting off with at least two pairs of socks! In fact, it's not uncommon for Pure Barre members to have upwards of eight pairs!
We are constantly updating our boutique with new styles so be sure to stop by before or after class. As you take more Pure Barre classes and achieve Pure Barre Milestones, you can also get specialized socks celebrating your milestone achievement!
How to Care for Your Sticky Socks
Once you have your socks, they can last you years if you follow proper care instructions.
Don't let your sticky socks lose their grip - follow our tips for keeping them like new:
Always wash your sticky socks inside out. This will ensure they don't lose their grip. They will also get a better clean!
Wash on cold and the gentle cycle. You can machine wash your sticky socks, but avoid hot temperatures and rough cycles which can shrink and shorten the lifetime of your socks.
Don't use too much detergent. Using too much detergent for your laundry load size can cause fungal growth and lead to a mildew odor - yuck!
Always air or line dry. Keep your socks soft and grippy by avoiding throwing them in the dryer. Always air dry your socks on a drying rack, or line dry them. And just in case you were wondering, there is no need to iron them either!
---