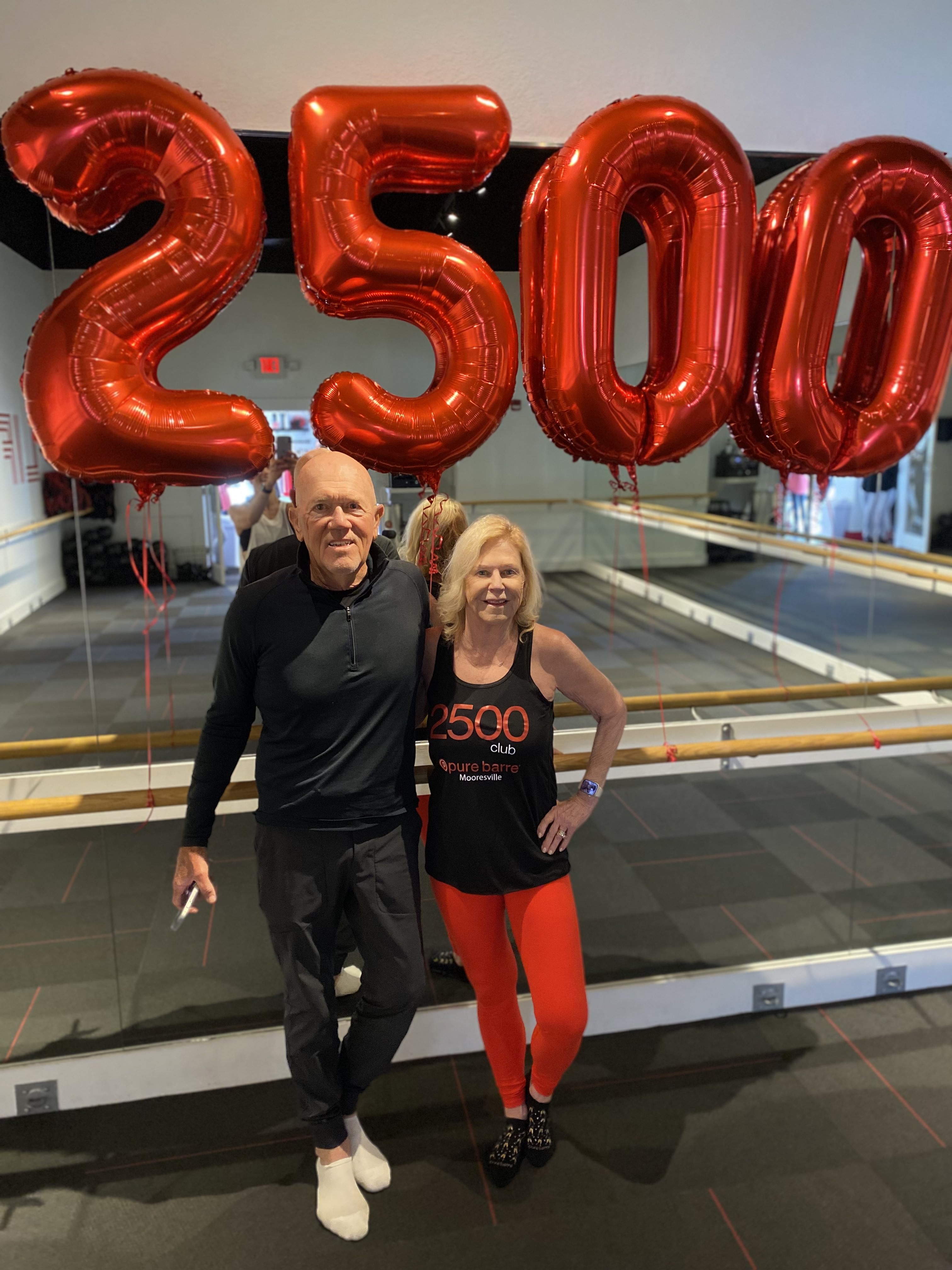 ---
Pure Barre is more than just a workout, it's a community. We're proud to bring people of all different backgrounds together at the barre. Because our barre workout is low impact and easy on the joints, Pure Barre is for any body and everybody.
Our full body workout classes are suitable for all fitness levels - no previous dance or fitness experience required. All you need to bring to your first barre class is yourself, we'll supply the rest!
A perfect example of how anybody can succeed at Pure Barre is our superstar member, Nancy. At 73, she recently became the first member at Pure Barre Mooresville to hit 2,500 classes! Nancy is proof that Pure Barre is a safe and accessible workout for those of all ages and backgrounds. She is an active member in her Pure Barre community, participates in every Pure Barre challenge and tries all class formats to incorporate variety into her routine.
Nancy was active throughout her life but was looking for a low-impact workout to transition out of her routine of running, cycling and lifting weights at the gym. At 67, her friend introduced her to Pure Barre and brought her to her first class. According to Nancy, between the music, the encouraging community and the full body workout, "it was love at first tuck"!
She immediately was hooked on everything Pure Barre had to offer and the changes she was feeling in her body. "My strength was much better," says Nancy, and she bought a membership that allowed her to come to class 3 times a week so she could continue getting stronger.
Pure Barre Milestones
At Pure Barre, we love hosting challenges to encourage members to set goals, push beyond what you think is possible and celebrate your wins. Our milestone challenges recognize member consistency and serve as a reminder that every class you take gets you a little bit closer to your goals. Pure Barre milestones celebrate the number of classes completed, starting with 100, 250, 500, 1,000 and so on.
Nancy set her sights on her first big challenge: hitting the 100 club. After completing her 100th class and signing her name on the barre, she felt "so proud of herself", and was inspired to keep going to hit another milestone.
She decided to try an Empower class (think cardio mixed with our signature barre class) , and loved it so much she incorporated it into her weekly routine. Soon, her 3-class-per-week habit grew to 5 or 6 classes a week. Sometimes, she even doubled up and took a Classic and Empower class back to back!
Now at 73 years old, taking 5-6 classes a week, Nancy hit the 2,500 club at her studio. She is an inspiration to all our members, and a reminder to all humans that we are all capable of so much more than we think. Her reaction to joining the 2,500 club? "2,500 classes is a huge accomplishment for me, but I want to keep going."
We are so proud to be part of Nancy's journey. If you are a Pure Barre member, we want to hear your story! Share your Pure Barre experience here
New to Pure Barre?
If you want to be like Nancy and remain active at 73 years old, fill out the form below to try Pure Barre's core strengthening, low impact workout class. Your first class is free and our experienced teachers will break down all the motions used in barre class.
---