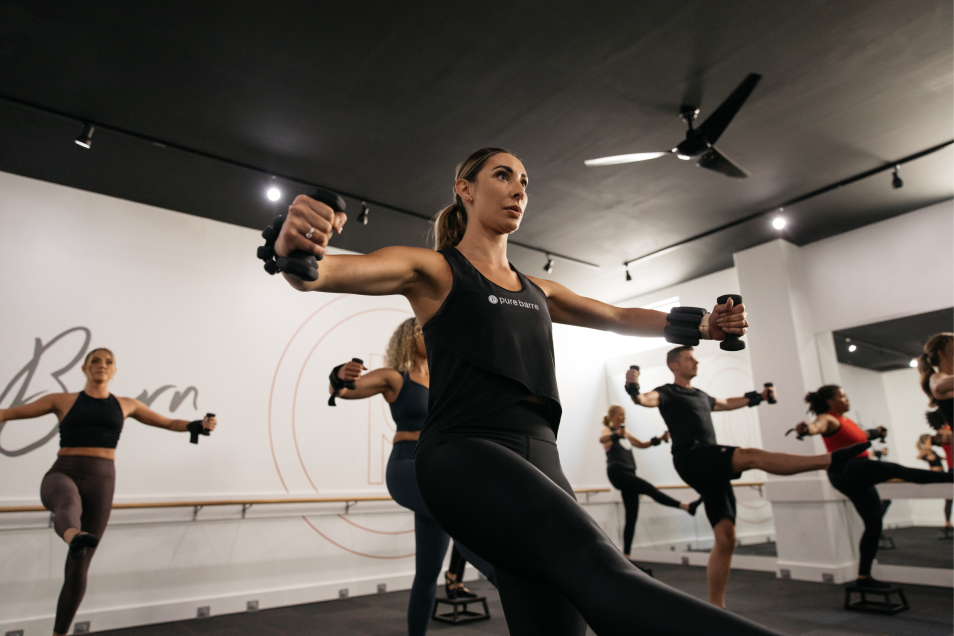 ---
February is American Health Month, and Pure Barre is a proud supporter of American Heart Association's Life is Why campaign to raise awareness about heart disease & stroke. All month long, we will highlight heart-healthy initiatives nationally and at a local studio level. We kick off the month with the "I Pulse For" campaign, encouraging members and staff to find their #PureHeart "why" and share who or what they pulse for every day when they come to class.
Whether you come to Pure Barre to pulse for your kids, for cross-training or for self-care & peace of mind, we welcome you! Pure Barre is an inclusive community and we are proud to say our members come from all walks of life and represent all ages, ethnicities & genders. Everyone's "why" is different but we celebrate our differences and support each other in and out of the studio to become better, together. Getting regular exercise is one of the most important steps toward reducing risk of heart disease, so having a supporting community to cheer you on and hold you accountable is invaluable.
February 3rd is National Wear Red Day to bring greater attention to the effects of heart disease. Pure Barre studios will encourage their team & members to wear red and some studios will offer donation-based classes benefiting the Life is Why Campaign. Donations will go directly to American Heart Association, and towards new treatment to save lives for earlier detection, faster treatments, more lives saved and fewer people suffering from the devastating effects of stroke and heart attacks. You can donate directly to the campaign here.
"The work we do at the American Heart Association to promote cardiovascular and brain health, prevent heart disease and stroke, support research and provide resources to help people live longer, healthier lives – no matter where they live – is possible because of the support of contributors to the Life is Why campaign," said Raymond P. Vara, Jr., American Heart Association volunteer and chairman of the board of directors. We are proud to support such a wonderful organization, on the frontlines of eradicating heart disease!
What is American Heart Month?
Did you know cardiovascular disease has been the No. 1 killer of Americans since 1920? According to the CDC, one person dies every 34 seconds in the US from cardiovascular disease. American Heart Month started in 1963 under President Lyndon B. Johnson to bring awareness to heart disease and encourage Americans to commit to improving cardiovascular health. 40 years later, organizations around the country still come together every February to remember those lost to heart disease and support programs dedicated to finding solutions to the issue.
Despite efforts to highlight the impotence of heart health every year on this national scale, heart disease continues to be a silent killer and is still the leading cause of death in both men & women in the US. In 2011 projections, the American Heart Association predicted that by 2030, upwards of 40 percent of the U.S. population – or more than 100 million Americans – would suffer from some form of cardiovascular disease. Shockingly, that benchmark was reached in 2015 - 15 years sooner than expected. It's more important than ever to come together to raise awareness
Pure Barre & Heart Health
There are several factors that contribute to heart health. Regular exercise and a healthy diet are two of the most important, but sleep, tobacco intake and other health markers also play a role in your cardiovascular health. The American Heart Association outlines 8 key steps to improve & maintain cardiovascular health and lower your risk of heart disease, stroke and other major health problems. These 8 behaviors are:
eat better
be more active
quit tobacco
get healthy sleep
manage weight
control cholesterol
manage blood sugar
manage blood pressure
Staying active is one of the most crucial components of a healthy lifestyle. Regular exercise can help you maintain a healthy weight, an important marker for identifying heart disease. The American Heart Association recommends adults get at least 150 minutes of moderate-intensity aerobic activity or 75 minutes per week of vigorous aerobic activity (or a combination of both). That is just 3 Pure Barre classes a week! They also recommend including moderate-to-high-intensity muscle-strengthening activities at least twice a week.
Pure Barre offers 4 different class formats to help you meet these recommendations. Although our workouts are low-impact, Pure Barre classes meet the qualification for moderate-intensity aerobic activity. All our full body workout classes are designed to work all your major muscle groups in one class.
"Your heart is the most important organ in your body," said Regan Stokes, President of Pure Barre. "We're thrilled to partner with the American Heart Association to share education on heart health with our community and further their vital mission. By raising this awareness and providing an inclusive space to achieve the recommended 150 minutes of moderate physical activity per week in a variety of group class formats, we can save and improve lives within our community and beyond."
Interested in joining Pure Barre, and trying our heart-healthy workout? Fill out the form below to find a studio near you and book into a Pure Barre Foundations™ Intro Class!
---